Description
Mimas A7 is a serious upgrade to our lower-cost Mimas V2 FPGA Development board. Based on Artix 7™ 50T FPGA, the Mimas A7 is powerful and versatile, offering improved system performance for cost-sensitive applications. This FPGA Development Board follows the philosophy of offering a large variety of peripherals on a compact form factor to allow minimal external components to run and evaluate as many designs as possible. Mimas A7 is a great platform for implementing Soft processors such as Microblaze to make it a complete embedded platform. The built-in Gigabit Ethernet offers low latency high bandwidth data transfer to host. The USB 2.0 host interface based on popular FT2232H offers high bandwidth data transfer and board programming without the need for any external programming adapters. Onboard HDMI IN/OUT interfaces along with large DDR3 SDRAM makes Mimas A7 a great platform for video capture, processing, and rendering. The staple peripherals such as switches and seven-segment displays offer great value for learning, prototyping and debugging. This board could be used as an FPGA module to integrate into other larger designs as well.
Features
Device: Xilinx Artix 7 FPGA (XC7A50T-1FGG484C)
DDR3: 2Gb DDR3 (MT41J128M16HA-125 or equivalent)
FTDI FT2232H based host interface
Built-in programming interface. No expensive JTAG adapters needed for programming the board
Gigabit Ethernet
HDMI IN/OUT interfaces
High-Speed Serial Interface (GTP) available on mini DisplayPort connectors
Onboard 128Mb flash memory for FPGA configuration storage and custom user data storage
100MHz CMOS oscillator
Micro SD card slot for memory expansion
Seven Segment Display and switches for easy learning, prototyping and debugging
FPGA configuration via JTAG and USB
80 IOs (40 professionally length matched Differential Pairs) for user-defined purposes
Applications
Product Prototype Development
Accelerated computing integration
Development and testing of custom embedded processors
Signal Processing
Communication device development
Educational tool for Schools and Universities
Video processing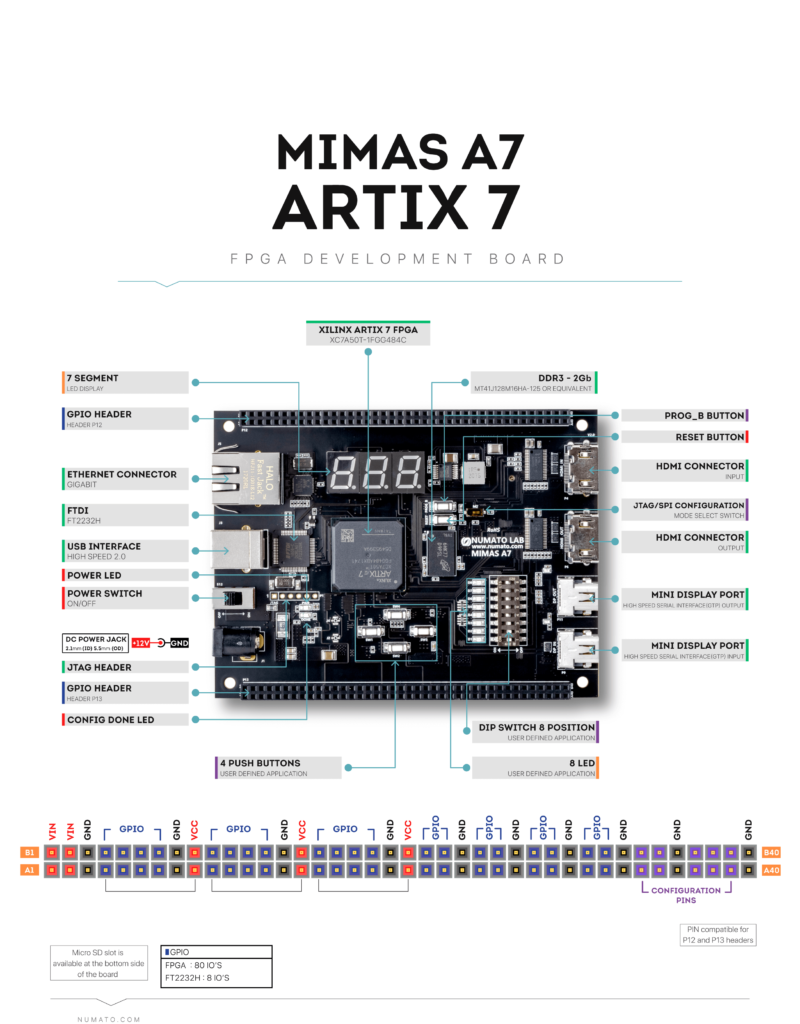 This product will start shipping again on January 15th, 2020.