Nereid K7 PCI Express FPGA Development Board
SKU: FPGA014
Request For QuoteWanna Customize? Drop Us A Line!
Nereid is an easy-to-use FPGA Development board featuring AMD Kintex-7 FPGA with x4 PCIe interface and 4GB DDR3 SDRAM. The board has  AMD XC7K160T– FBG676 FPGA; other FPGA configurations are available at request. Nereid features a High Pin Count (HPC) high-speed FMC connector for the purpose of adding additional features to the board by using custom or commercial off-the-shelf daughter boards.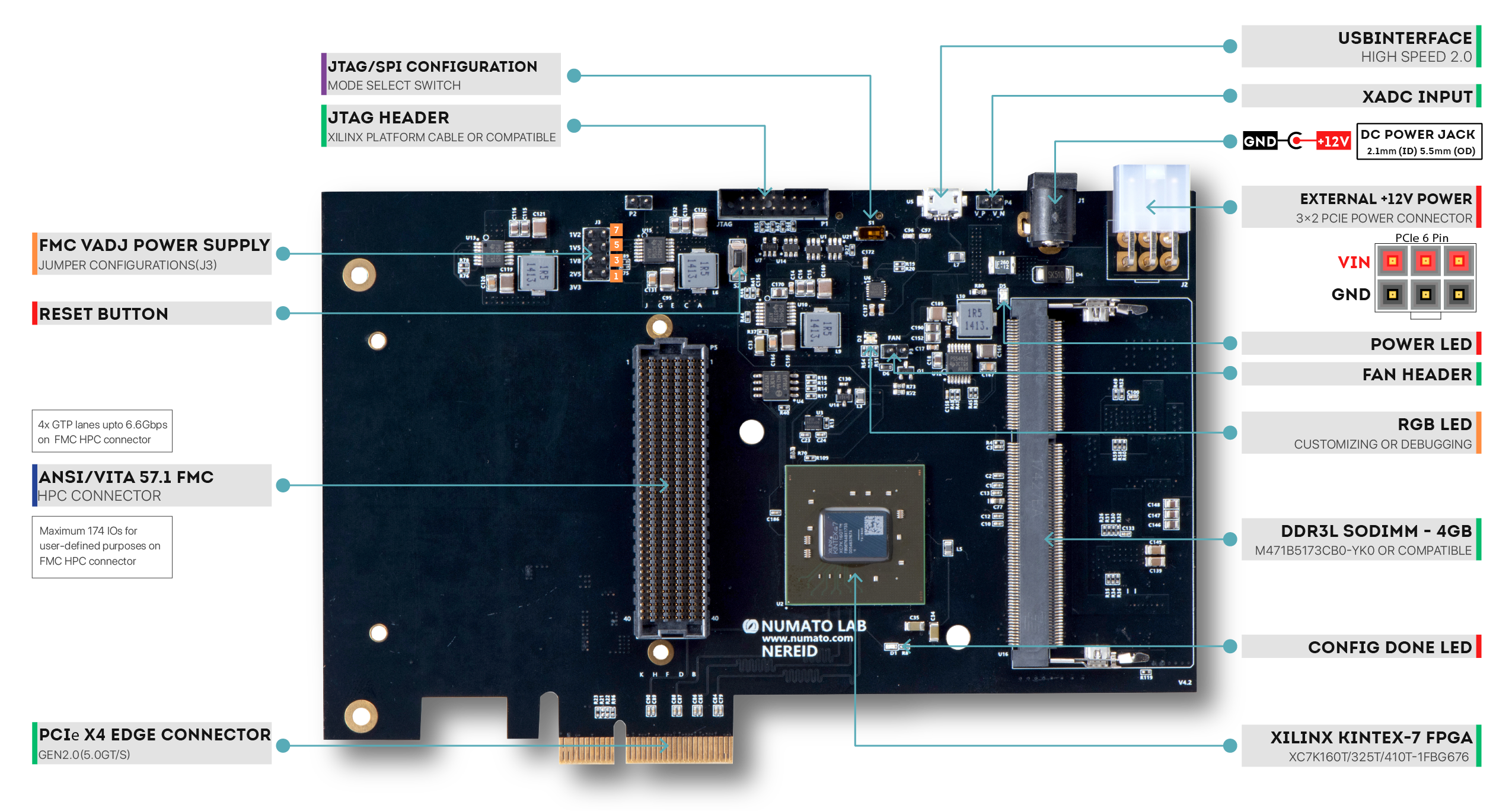 Features
FPGA: AMD Kintex-7 XC7K160T-1 FBG676 package (Other devices available at request)
4 lane PCIe Gen2.0 (5GT/s) interface at maximum 2GB/s
4GB DDR3L SODIMM SDRAM M471B5173CB0-YK0 1600MHz (included)
128 Mb QSPI flash memory (N25Q128A13ESE40E) for Configuration and optional data storage
USB to UART serial converter
1 x 100MHz CMOS oscillator, 1x 150MHz LVDS oscillator for users
1 x 150MHz LVDS oscillator for GTP
ANSI/VITA 57.1 Standard compliant FMC HPC connector
Maximum 174 IOs for user-defined purposes on FMC connector
Onboard voltage regulators for single power rail operation
Can be powered from PCIe slot or from an external power supply
JTAG header for programming and debugging
All differential pairs are length matched on the board
1 RGB LED for custom use
Applications
Parallel processing and accelerators
Development and testing of custom embedded processors
Signal Processing
Communication device development
Data Acquisition
Educational tool for Schools and Universities
* Fan available only on larger FPGA variants.
Specifications
| Attribute | Value |
| --- | --- |
| Weight | 1.5 lbs |
| Dimensions | 12 × 9 × 2 in |
| FPGA | |
| Memory | |
| Number Of Clock Sources | 3 |
| Communication | x4 PCIe, USB-RS232 |
| Configuration Options | |
| Primary Clock Frequency | |
| Number Of GPIOs (Max) | |
| Non-Volatile Configuration Storage | N25Q128A13ESE40E |
| Total Number of GTX | 4 |
| Differential Pairs Length Matched | Yes |
| HTS | 8542.39.0001 |
| ECCN | 3A991.d |