Proteus K7 USB 3.1 Development Board
SKU: NLFX1004
Request For QuoteWanna Customize? Drop Us A Line!
Proteus is an easy-to-use FPGA Development board featuring the AMD Kintex-7 FPGA with 4GB DDR3L SDRAM. This board contains the AMD XC7K160T– FBG676 FPGA (other FPGA configurations are available at request). The high-speed USB 3.1 interface (USB-C connector) provides a fast and easy configuration download to the onboard SPI flash. There is no need for a programmer or special downloader cable to download a Bitstream to the board. The board features a High Pin Count (HPC), high-speed FMC connector for aiding the addition of additional features to the board by utilizing custom or commercial off-the-shelf daughter boards. Proteus allows users to add their own peripherals through IO Expansion Headers.
Features
FPGA : AMD Kintex-7 XC7K160T– FBG676 package (Other devices available at request)
4GB DDR3L SODIMM SDRAM M471B5173CB0-YK0 or compatible
128 MB QSPI flash memory (N25Q128A13ESE40E) for Configuration and optional data storage
1 x 100MHz CMOS oscillator, 1x 150MHz LVDS oscillator for users
2 x 150MHz LVDS oscillator for GTP
USB 3.1 Gen 1 @ 5Gbps (USB Type-C connector)
Onboard voltage regulators for single-power rail operation
12V DC power supply
Maximum 130 IOs for user-defined purposes on FMC connector
8 x GTX lanes upto 6.6Gbps on ANSI/VITA 57.1 Standard-compliant FMC HPC connector
Micro SD Card
A Push Button for the reset pin
JTAG header for programming and debugging.
1 RGB LED for custom use.
Applications
Product Prototype Development
Communication Device Development
Accelerated Computing Integration
Development and Testing of Custom embedded processors
Signal Processing
Educational tool for Schools and Universities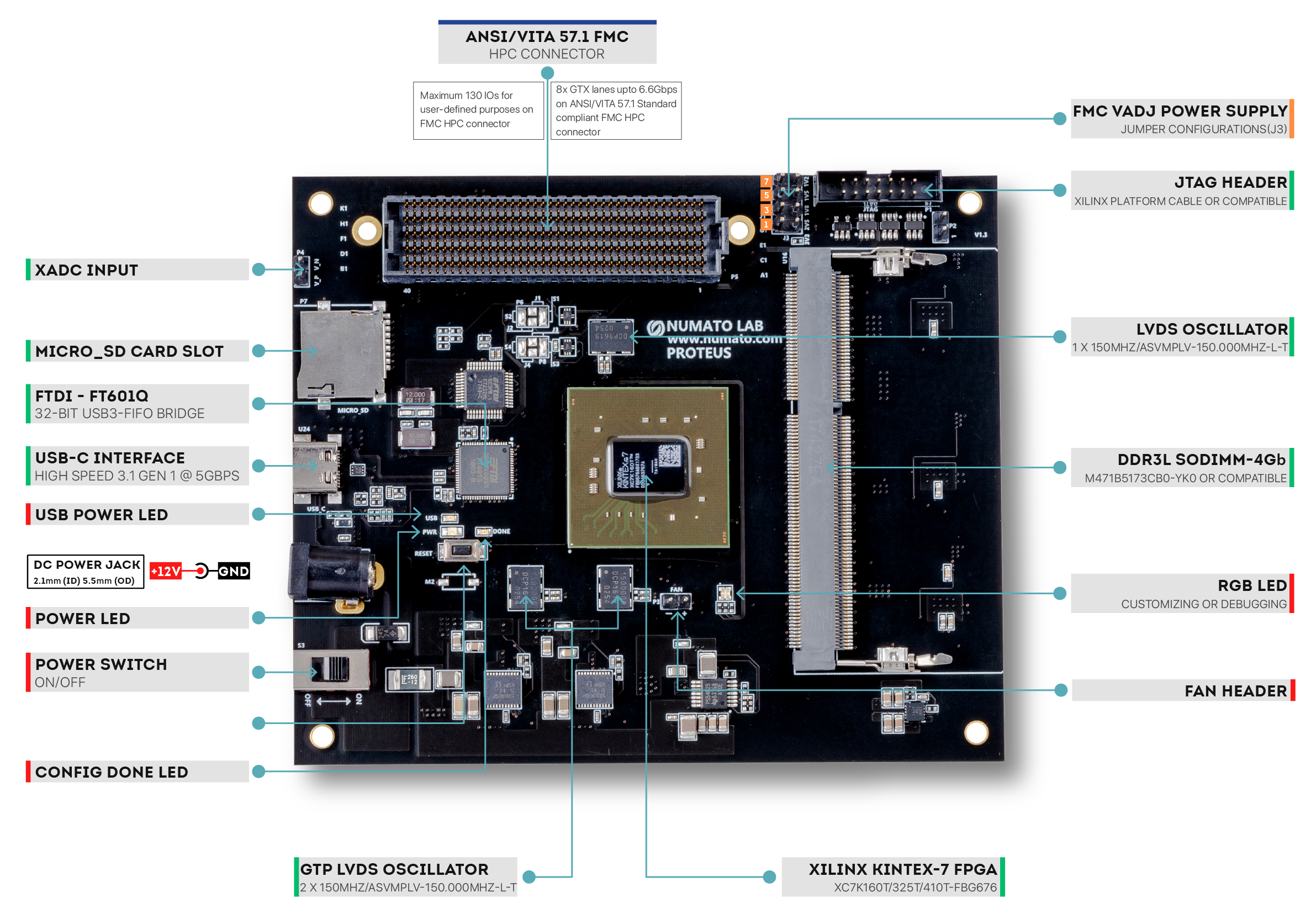 Specifications
| Attribute | Value |
| --- | --- |
| Weight | 2.5 lbs |
| FPGA | |
| Memory | |
| Number Of GPIOs (Max) | |
| Configuration Options | |
| Non-Volatile Configuration Storage | N25Q128A13ESE40E |
| Number of Clock Sources | 3 |
| Total Number of GTX | 8 |
| Differential Pairs Length Matched | Yes |
| Communication | USB 3.1 |
| Primary Clock Frequency | |
| HTS | 8542.39.0001 |
| ECCN | 3A991.d |