Elbert V2 S3A FPGA Development Board
Last time to buy – March 2024
This product is not recommended for new designs. For new designs, click here.
Request For QuoteWanna Customize? Drop Us A Line!
ELBERT V2 is a simple but versatile FPGA Learning/Development board featuring AMD S3A FPGA. An excellent choice for beginners and advanced learners for experimenting and learning system design with FPGAs. This development board features AMD XC3S50A 144-pin FPGA with a maximum of 108 user IOs (Some IOs are dedicated to the system and peripherals). USB interface provides a fast and easy configuration download to the onboard SPI flash. You don't need a programmer or special downloader cable to download Bitstream to Elbert. ELBERT V2 features a stable clock source that is derived from the onboard configuration controller. ELBERT V2 incorporates LEDs, switches, and other peripherals for curious users to get started with the "Hello World" program in a matter of minutes.
Features
FPGA: AMD Spartan XC3S50A in TQG144 package
Flash memory: 16 Mb SPI flash memory (M25P16)
USB 2.0 interface for On-board flash programming
FPGA configuration via JTAG and USB
8 LEDs, Six Push Buttons, and 8 way DIP switch for user-defined application
VGA output
Stereo audio out
Micro SD Card Adapter
Three Seven Segment Displays
39 IOs for user-defined purposes
On-board voltage regulators for single power rail operation
RoHS Compliant
Applications
Product Prototype Development
Home Networking
Signal Processing
Wired and Wireless Communications
Educational tool for schools and universities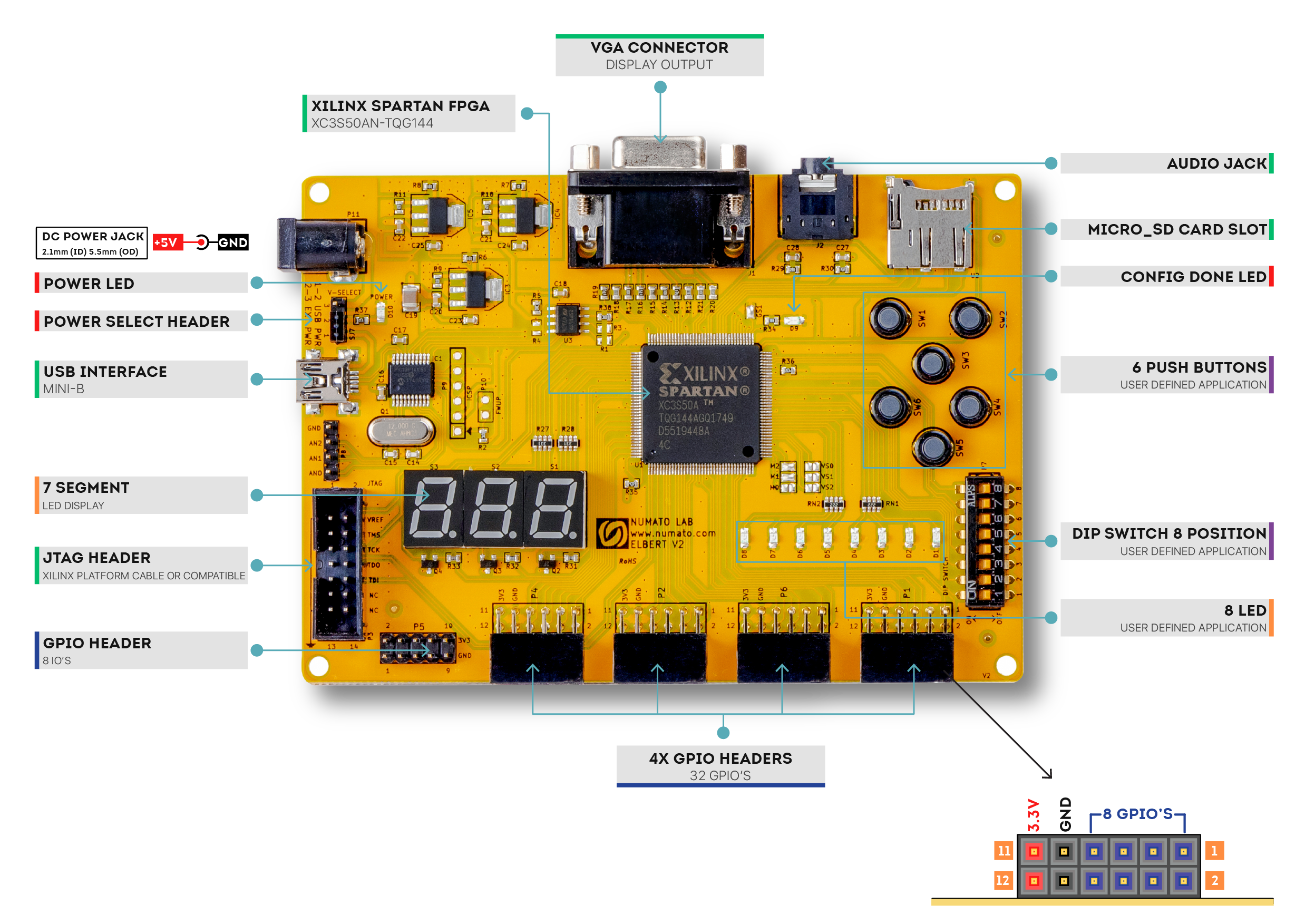 Please review our latest addition to the FPGA family Narvi S7 FPGA Module featuring AMD Spartan-7 FPGA which can be the solution to develop and prototype applications.
Specifications
| Attribute | Value |
| --- | --- |
| Weight | 0.25 lbs |
| Dimensions | 6 × 4 × 1 in |
| FPGA | |
| Number Of Clock Sources | 1 |
| Primary Clock Frequency (MHz) | 12MHz |
| Data Storage | Micro SD Slot |
| Number Of GPIOs (Max) | |
| Switches | DIP, Push Button |
| Video Out | VGA |
| Audio Codec | PWM |
| Display Type | |
| Number Of General Purpose LEDs | 8 |
| Configuration Options | |
| RoHS | Yes |
| HTS | 8542.39.0001 |
| ECCN | EAR99 |