RXE002 – 4 Channel USB/RTU/TCP Modbus Relay Module With Digital Outputs, Analog and Digital Inputs
Request For QuoteWanna Customize? Drop Us A Line!
RXE002 is an Input/Output module that supports Modbus RTU over USB and RS485 and Modbus TCP over Ethernet. This product has 4 Relays (Dry Contacts) and 8 Digital Inputs, 8 Digital Outputs, and 4 Analog Inputs. All the Analog Inputs have polarity and support 4 to 20mA Current-Loop, which makes this device more useful in industries. The RS485/USB/Ethernet host interface makes connecting this device to any Windows, Linux, Mac machines or embedded computers such as RPi an easy task. Meanwhile, support for industry-standard Modbus protocol makes it easy to use this device with almost any automation software that supports Modbus – RTU/TCP.  RXE002 when RTU model connected to a host computer, is enumerated as a regular serial port. This alleviates the difficulty of working with the USB protocol and offers a transparent interface to access the device. RXE002 acts as a Modbus slave device. Flexible DIN Rail mounting system allows easy installation and removal with screws. RXE002 supports several features such as Relay Timer, Safety Timer (Watchdog), Programmable Power-On State, etc.
Features
4 SPST Relays rated up to 250V/10A each
8 Digital Inputs supports Maximum Input Voltage of 30V
8 Digital Outputs
4 Analog Inputs with 16-bit resolution and supports 4 to 20mA current-loop
Compatible with most automation software in the market that supports Modbus RTU/TCP
Features such as Relay Timer, the Watchdog timer for fail-safe operation, Configurable Power On states, etc.
Write your own script or software with the help of a large number of sample code provided in various languages
Detachable screw terminals for easy wiring and replacement
24V Power Supply (included)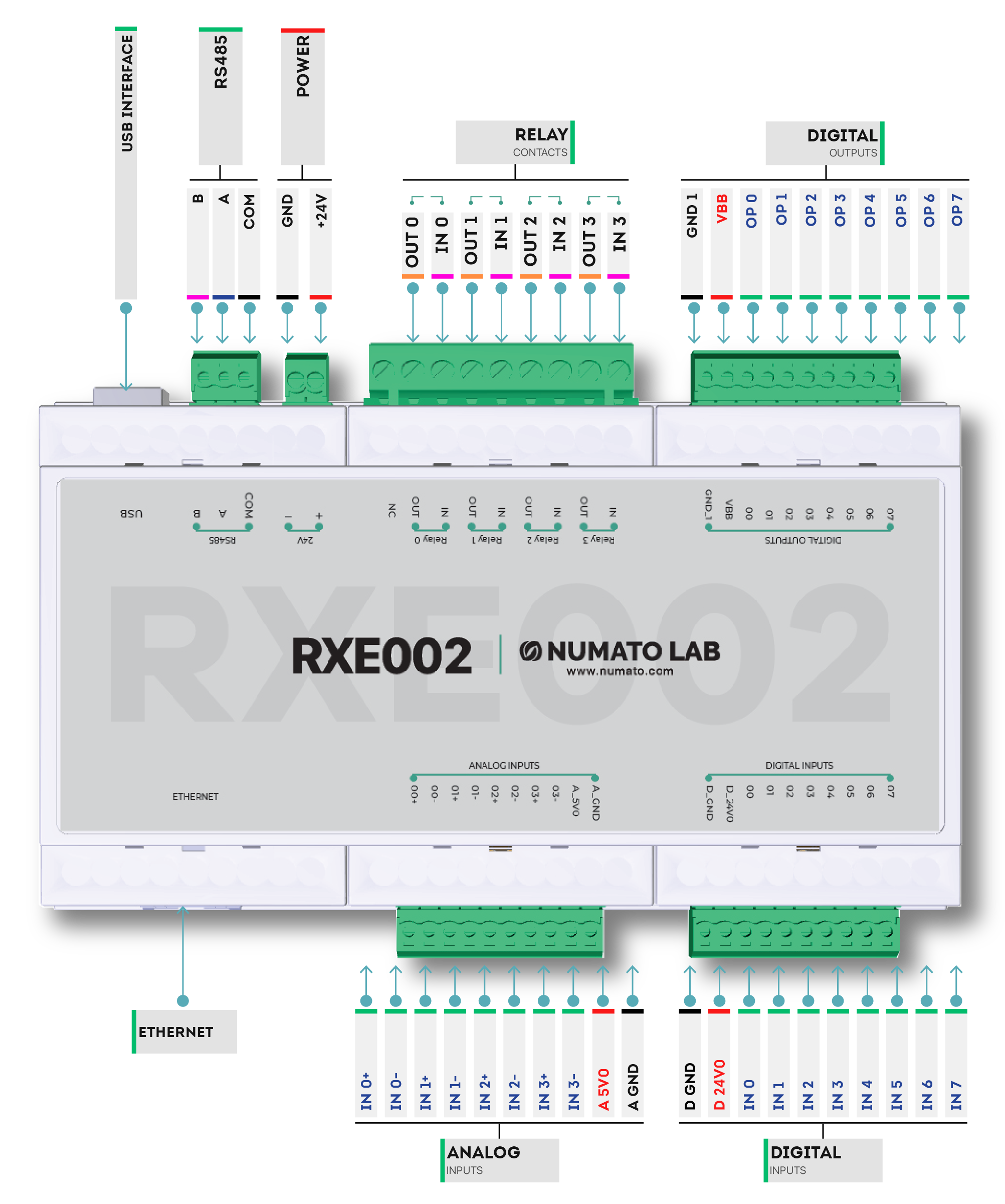 Specifications
| Attribute | Value |
| --- | --- |
| Number Of Relays | |
| Relay Type | |
| Max Relay Current Rating | |
| Number of Dgital Outputs | 8 |
| Digital Output Voltage Source | Internal (Onboard) Voltage : 24V External Voltage(VBB) : 30V |
| Number of Digital Inputs | 8 |
| Digital Input Voltage Max | 30V |
| Analog Inputs(Max) | |
| Analog Input Resolution | |
| Host Interface | |
| Warranty | |
| Package Contents | |