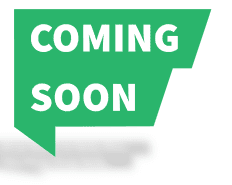 Mimas Lattice ECP5 Mini FPGA Development Board is a versatile and cost-effective FPGA development board. It is designed to be compact and robust, with a well-rounded selection of components and expansion slots. While its primary use is for mastering digital circuit design principles, the Mimas ECP5 also boasts a diverse array of features and interfaces.
Powered by a high-performance Lattice Semiconductor ECP5-series FPGA chip and supported by the latest open-source toolchains, the Mimas ECP5 is a powerful and desirable platform for FPGA development. It is offered by Numato Lab, a company that prioritizes quality, timely delivery, and exceptional customer service. With the Mimas ECP5, users can efficiently and reliably develop and test their FPGA designs.
Features: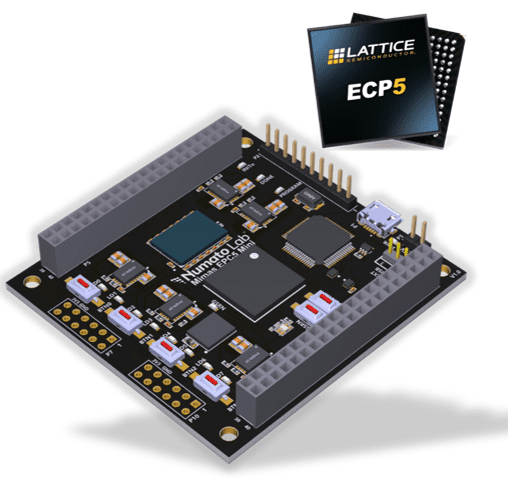 FPGA: Lattice ECP5 FPGA (LFE5U-45F-7BG256I)
DDR3: 2Gb DDR3
Built-in programming interface
Onboard 128Mb flash memory for FPGA configuration & custom user data
High-Speed USB 2.0 interface for On-board flash programming
100mhz CMOS oscillator
8 LEDs, 1 RGB LED, and 4 Push Buttons for user-defined purposes
FPGA configuration via JTAG and USB
Maximum IOs for user-defined purposes: FPGA – 70 IOs (35 professionally length matched Differential Pairs) and two 2×6 Expansion Headers
Mimas development board also comes with Tenagra FPGA System Management Software
Numato's Tenagra is a powerful FPGA system management software that allows users to remotely manage their FPGA systems from anywhere in the world.
Software is easy to use and comes with a simple, user-friendly interface that makes it easy to set up and manage FPGA systems.
Tenagra provides real-time monitoring of FPGA system performance and sends alert notifications to users when critical system parameters fall outside set thresholds, preventing system failures.
Software includes a built-in automated testing feature that allows users to test their FPGA systems quickly and easily.
Tenagra supports a wide range of operating systems, including Windows, Linux, and macOS, making it compatible with a wide range of FPGA systems.
Software includes several security features, including user authentication and encryption, ensuring that the system is protected from unauthorized access or modifications.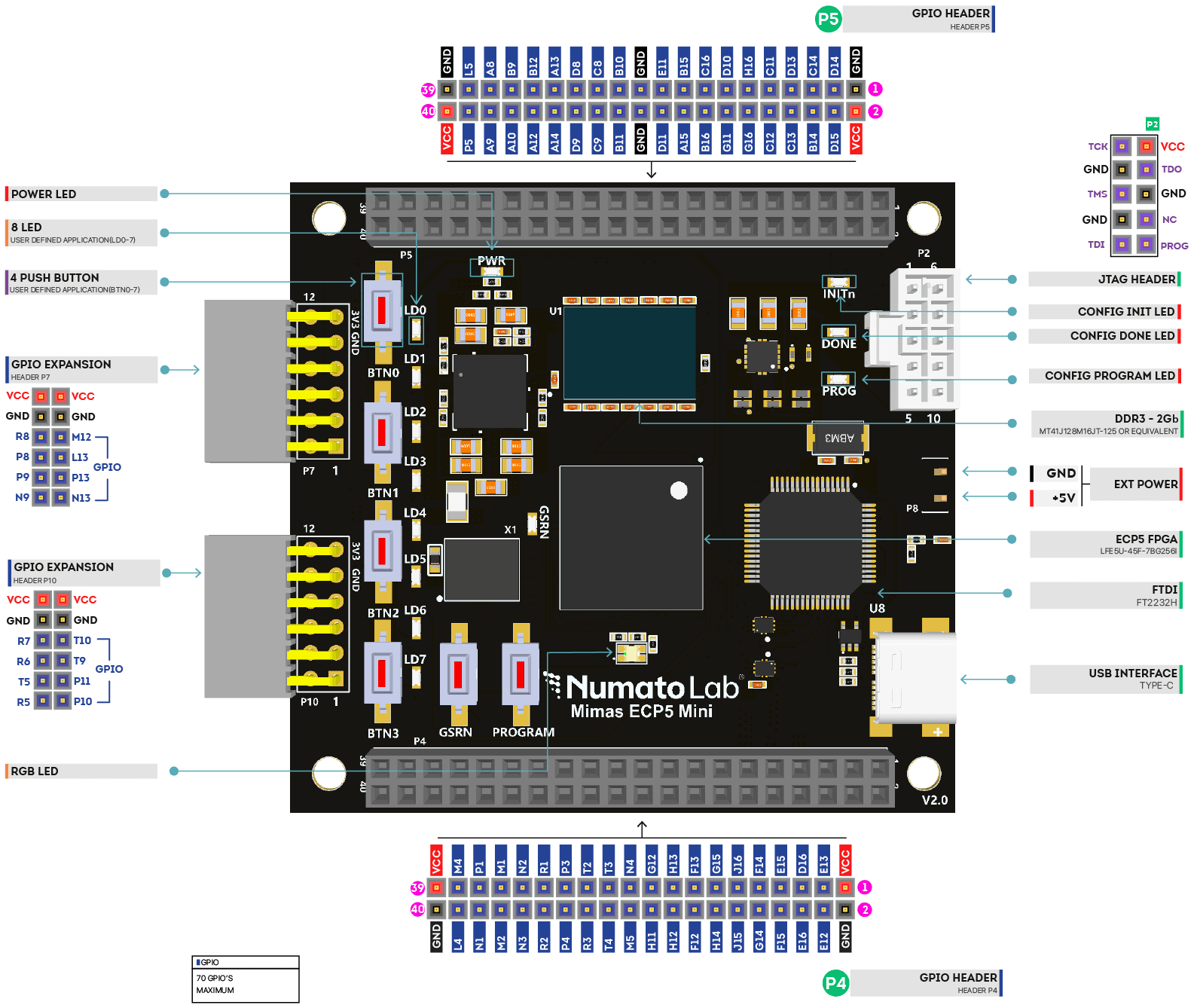 Wiring Diagram
Applications and Use Cases:
Mimas: Lattice ECP5 Mini FPGA Board is an excellent platform for various applications, including: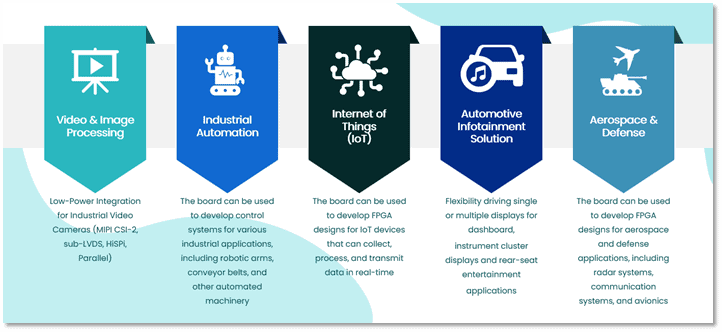 USPs of Numato:
Numato Lab offers Mimas Lattice ECP5 FPGA Development Board prides itself on its commitment to quality, timely delivery, and excellent customer service. Here are some of the USPs:

Highest Quality Products: We use only the highest quality components and materials in the manufacture of our products, ensuring that our customers receive reliable and efficient products.

Timely Delivery within 5 Business Days: Numato understands the importance of timely delivery and ensures that all orders are processed and shipped within five business days, regardless of the destination.

Excellent Customer Service: We are committed to providing excellent customer service, with a team of experts ready to assist customers with any queries or issues. We understand that customer satisfaction is key to its success & strive to provide the highest level of support.
Mimas: Lattice ECP5 Mini FPGA Development Board is an excellent platform for developing and testing FPGA designs for a variety of applications. The board, offered by a company is a reliable and efficient tool for engineers and developers. With its exceptional features and benefits, the Mimas Lattice ECP5 FPGA Development Board is undoubtedly a game-changer in the world of FPGA development and is expected to be launched and available for delivery starting in the June 2023.
For further information or inquiries, please write to [email protected].