Introduction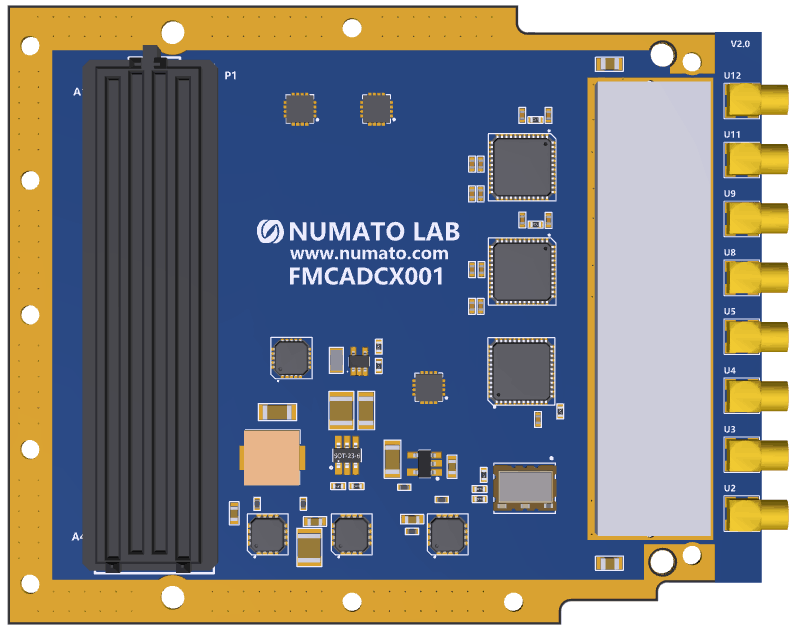 The Numato Lab FMCADCX001 ADC Expansion Module features two Analog Devices AD9250 ICs with each IC being a dual, 14-bit ADC with a sampling rate of up to 250 MSPS, thus providing a total of 4 analog input channels. The AD9250 is designed to support communications applications where low cost, small size, wide bandwidth, and versatility are desired. This module is designed to be used with Numato Lab's FPGA boards featuring FMC connectors, and can additionally be used with any FPGA board supporting the ANSI/VITA 57.1 FMC connector.
Applications
Digital Instrumentation
Product prototyping
Low-Cost Digital Oscilloscopes
Data acquisition
Electronic test and measurement equipment
Board Features
ANSI/VITA 57.1 compliant FMC connector for mating with compatible FPGA carrier cards
4 Analog Inputs: 1.4 Vp-p to 2.0 Vp-p (1.75 Vp-p nominal)
AD9250 SNR = 70.6 dBFS @ 185 MHz AIN and 250 MSPS
14-bit resolution, 250 MSPS maximum sampling rate
Energy saving power-down modes
Total power consumption per AD9250: 711 mW at 250 MSPS
AD7291: 12-bit SAR ADC with an internal temperature sensor for power rails' voltage monitoring
Dimension: 84.01mm x 69.00mm
How to use the module
The following section describes how to use this module.
Compatible FPGA Boards
Along with the module, you may use any of the boards below, or any ANSI/VITA 57.1 Standard Compliant FMC FPGA boards can be used.
Connection Diagram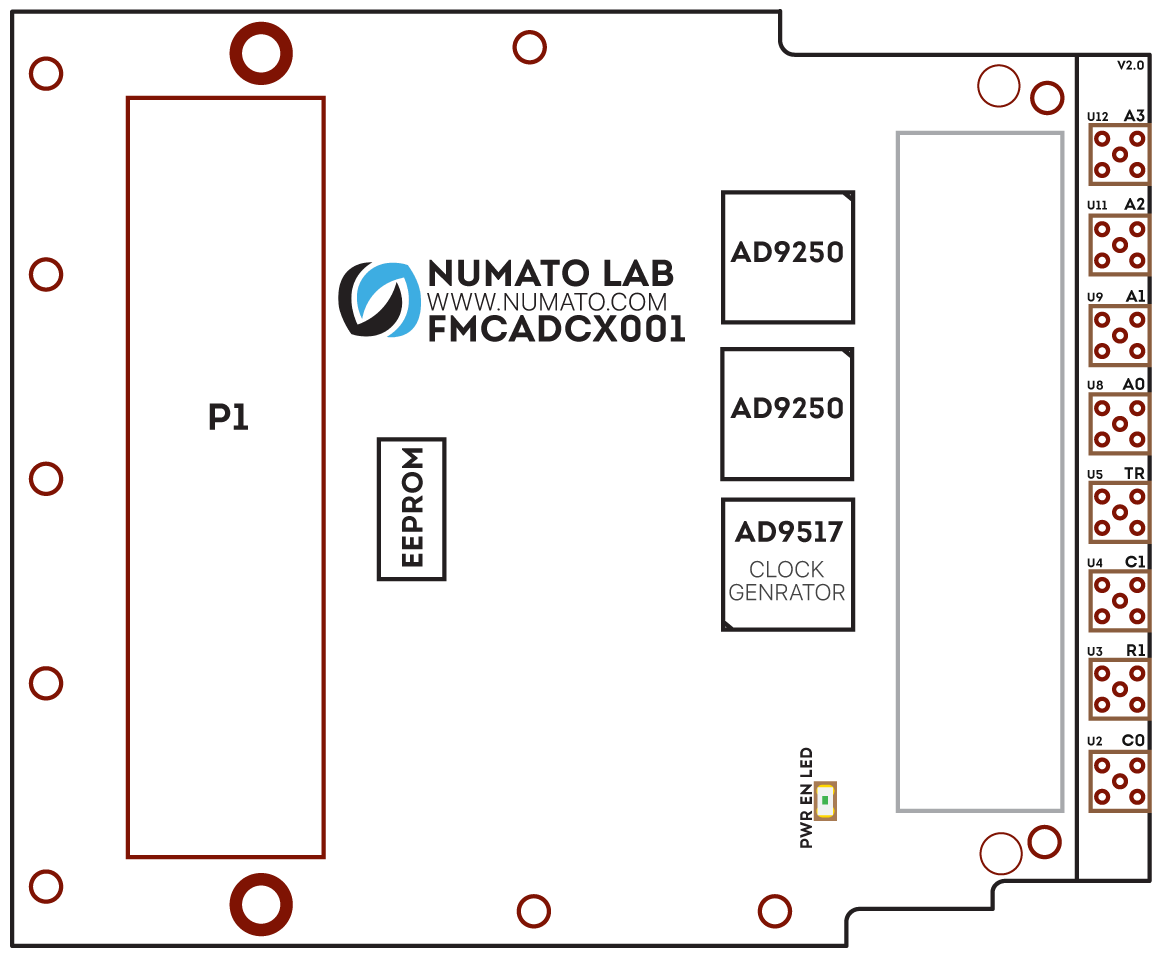 Here,
A3 – A0 –> Analog Inputs
TR –> External Trigger
C1 –> Clock Input
R1 –> External Reference
C0 –> Clock Output
This diagram should be used as a reference only. For detailed information, see the schematics at the end of this document. Details of individual connectors are as below.
Connection Details
Header P1
| SL.No | Signal Details | FMC Pin Location | Trace Length(mm) |
| --- | --- | --- | --- |
| 1 | SERDOUTD_P | A2 | 74.04 |
| 2 | SERDOUTD_N | A3 | 74.05 |
| 3 | SERDOUTC_P | A6 | 74.04 |
| 4 | SERDOUTC_N | A7 | 74.05 |
| 5 | SERDOUTB_P | A10 | 74.04 |
| 6 | SERDOUTB_N | A11 | 74.06 |
| 7 | SERDOUTA_P | C6 | 74.02 |
| 8 | SERDOUTA_N | C7 | 74.03 |
| 9 | CLK_N_PD | C10 | 76.79 |
| 10 | CLK_N_SYNC | C11 | 73.73 |
| 11 | CLK_N_RESET | C14 | 60.44 |
| 12 | CLK_REFMON | C15 | 62.84 |
| 13 | CLK_LD | C18 | 60.72 |
| 14 | CLK_STATUS | C19 | 63.54 |
| 15 | REF_EN | C22 | 56.74 |
| 16 | VM_PD | C23 | 33.21 |
| 17 | I2C_SCL | C30 | 34.2 |
| 18 | I2C_SDA | C31 | 34.6 |
| 19 | GA0 | C34 | 42.95 |
| 20 | GA1 | D35 | 46.13 |
| 21 | PG_C2M | D1 | 69.27 |
| 22 | GBTCLK0_M2C_P | D4 | 74.05 |
| 23 | GBTCLK0_M2C_N | D5 | 74.04 |
| 24 | VM_ALERT | D9 | 30.04 |
| 25 | PS _PG | D11 | 96.5 |
| 26 | PS_EN | D12 | 163.3 |
| 27 | CLK_N_CS | D17 | 60.46 |
| 28 | SCLK_3V3 | D20 | 60.29 |
| 29 | SDIO_3V3 | D23 | 72.01 |
| 30 | EEPROM_WP | D26 | 27.81 |
| 31 | EXT_TRIGGER_P | G2 | 74.05 |
| 32 | EXT_TRIGGER_N | G3 | 74.05 |
| 33 | BUF_ADC0_N_RST | G6 | 59.6 |
| 34 | BUF_ADC0_N_CS | G7 | 59.6 |
| 35 | BUF_ADC0_PD | G9 | 59.6 |
| 36 | BUF_ADC0_FDA | G10 | 59.6 |
| 37 | BUF_ADC0_FDB | G12 | 59.6 |
| 38 | BUF_SCLK | G13 | 59.6 |
| 39 | BUF_SDIO | G15 | 59.6 |
| 40 | BUF_ADC1_N_RST | G16 | 59.6 |
| 41 | BUF_ADC1_N_CS | G18 | 59.6 |
| 42 | BUF_ADC1_PD | G19 | 59.6 |
| 43 | BUF_ADC1_FDA | G21 | 59.6 |
| 44 | BUF_ADC1_FDB | G22 | 59.6 |
| 45 | SYNCIN_L | G24 | 76.9 |
| 46 | SYSREF | G25 | 67.7 |
| 47 | CLK_TO_FPGA_P | H4 | 73.9 |
| 48 | CLK_TO_FPGA_N | H5 | 73.9 |