Introduction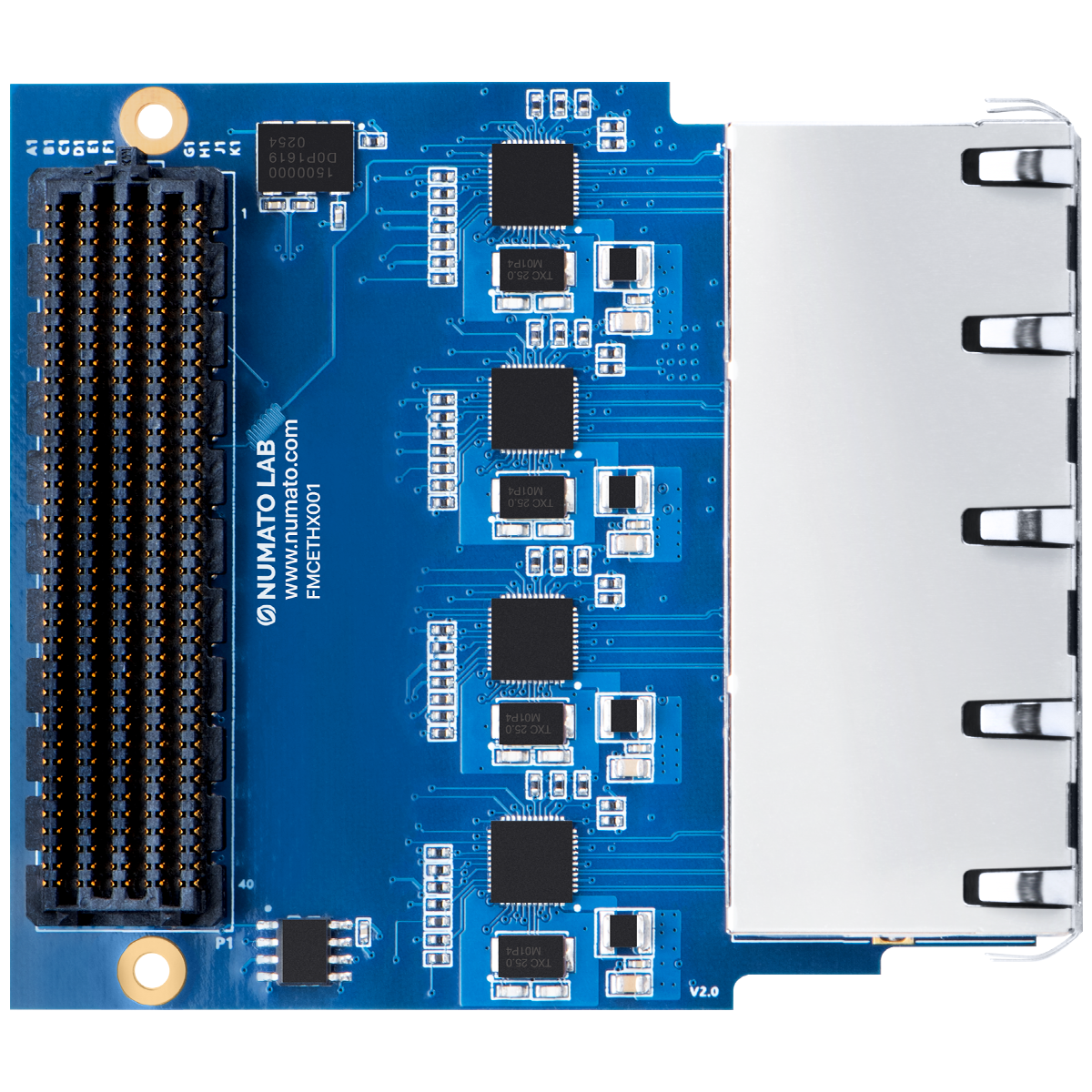 The FMCETHX001 Ethernet Expansion Module is an easy to use module featuring RTL8211E-VB-CG which is a highly integrated Ethernet transceiver that complies with 10Base-T, 100Base-TX, and 1000Base-T IEEE 802.3 standards.
This FMCETHX001 Ethernet Expansion Module has 4 Gigabit Ports- each individually capable of providing robust transmission and reception capabilities at 10Mbps, 100Mbps, or 1000Mbps and also all the 4 ports are capable of working simultaneously. The FMC module is ANSI/VITA 57.1 standards compliant. This expansion module supports 3.3V signaling for RGMII.
The Reduced Gigabit Media-Independent Interface (RGMII) is used to interface Ethernet MAC on FPGA with Gigabit Ethernet PHY chips (RTL8211E) on 4 Port Gigabit Ethernet FMC Module. RGMII provides a media-independent interface so that there is compatibility between MAC and PHY irrespective of the hardware used. This expansion module is compatible with Numato Lab's FPGA boards such as Nereid Kintex 7 FPGA Board, Proteus Kintex 7 FPGA Board and Tagus Artix 7 FPGA Board.
Applications
Network Interface Adapter
Embedded Telecom Applications
Digital Media Adapters /Servers
Ethernet hub
Ethernet switch.
Gigabit Router
Board Features
4 High-Performance 10/100/1000Mbps Ethernet Transceiver
Dimension: 76.50mm x 69.00mm
How to use the module
The following section describes how to use this module.
Components/Tools Required
Along with the module, you may use any of the boards below, or any other FMC compatible FPGA board.
Connection Details
Header P1
| SL.No | Pin Details | FMC Pin Name | FMC Pin Location | Trace Length(mm) |
| --- | --- | --- | --- | --- |
| 1 | ETH_RXD0_0 | RXD[0] | G28 | 49.022 |
| 2 | ETH_RXD1_0 | RXD[1] | H28 | 49.022 |
| 3 | ETH_RXD2_0 | RXD[2] | H29 | 49.022 |
| 4 | ETH_RXD3_0 | RXD[3] | G30 | 49.022 |
| 5 | ETH_RXCTL_0 | RXCTL | G27 | 49.022 |
| 6 | ETH_RXCLK_0 | RXCLK | C22 | 49.032 |
| 7 | ETH_TXD0_0 | TXD[0] | G33 | 49.022 |
| 8 | ETH_TXD1_0 | TXD[1] | G34 | 49.022 |
| 9 | ETH_TXD2_0 | TXD[2] | H34 | 49.023 |
| 10 | ETH_TXD3_0 | TXD[3] | H35 | 49.022 |
| 11 | ETH_TXCTL_0 | TXCTL | H37 | 49.022 |
| 12 | ETH_TXCLK_0 | TXCLK | H32 | 49.022 |
| 13 | ETH_MDIO_0 | MDIO | G37 | 49.022 |
| 14 | ETH_MDC_0 | MDC | G36 | 49.022 |
| 15 | ETH_INT_0 | INT | H31 | 49.022 |
| 16 | ETH_RESET_0 | RESET | H38 | 49.022 |
| 17 | ETH_RXD0_1 | RXD[0] | H23 | 49.022 |
| 18 | ETH_RXD1_1 | RXD[1] | D21 | 49.022 |
| 19 | ETH_RXD2_1 | RXD[2] | G21 | 49.022 |
| 20 | ETH_RXD3_1 | RXD[3] | H22 | 49.022 |
| 21 | ETH_RXCTL_1 | RXCTL | C23 | 49.03 |
| 22 | ETH_RXCLK_1 | RXCLK | D20 | 49.022 |
| 23 | ETH_TXD0_1 | TXD[0] | C26 | 49.022 |
| 24 | ETH_TXD1_1 | TXD[0] | D26 | 49.027 |
| 25 | ETH_TXD2_1 | TXD[0] | G24 | 49.027 |
| 26 | ETH_TXD3_1 | TXD[0] | G25 | 49.022 |
| 27 | ETH_TXCTL_1 | TXCTL | H25 | 49.022 |
| 28 | ETH_TXCLK_1 | TXCLK | D24 | 49.022 |
| 29 | ETH_MDIO_1 | MDIO | C27 | 49.022 |
| 30 | ETH_MDC_1 | MDC | H26 | 49.022 |
| 31 | ETH_INT_1 | INT | G22 | 49.022 |
| 32 | ETH_RESET_1 | RESET | D27 | 49.022 |
| 33 | ETH_RXD0_2 | RXD[0] | H11 | 53.848 |
| 34 | ETH_RXD1_2 | RXD[1] | G13 | 53.848 |
| 35 | ETH_RXD2_2 | RXD[2] | H13 | 53.848 |
| 36 | ETH_RXD3_2 | RXD[3] | H14 | 53.848 |
| 37 | ETH_RXCTL_2 | RXCTL | H10 | 53.896 |
| 38 | ETH_RXCLK_2 | RXCLK | D8 | 53.871 |
| 39 | ETH_TXD0_2 | TXD[1] | H16 | 53.848 |
| 40 | ETH_TXD1_2 | TXD[1] | D17 | 53.868 |
| 41 | ETH_TXD2_2 | TXD[2] | H17 | 53.849 |
| 42 | ETH_TXD3_2 | TXD[3] | G18 | 53.848 |
| 43 | ETH_TXCTL_2 | TXCTL | D18 | 53.848 |
| 44 | ETH_TXCLK_2 | TXCLK | G16 | 53.848 |
| 45 | ETH_MDIO_2 | MDIO | C19 | 53.585 |
| 46 | ETH_MDC_2 | MDC | C18 | 53.848 |
| 47 | ETH_INT_2 | INT | G12 | 53.848 |
| 48 | ETH_RESET_2 | RESET | G19 | 53.848 |
| 49 | ETH_RXD0_3 | RXD[0] | C15 | 56.389 |
| 50 | ETH_RXD1_3 | RXD[1] | G10 | 56.388 |
| 51 | ETH_RXD2_3 | RXD[2] | C14 | 56.388 |
| 52 | ETH_RXD3_3 | RXD[3] | C11 | 56.396 |
| 53 | ETH_RXCTL_3 | RXCTL | D15 | 56.388 |
| 54 | ETH_RXCLK_3 | RXCLK | G6 | 56.388 |
| 55 | ETH_TXD0_3 | TXD[0] | D14 | 56.388 |
| 56 | ETH_TXD1_3 | TXD[0] | D12 | 56.388 |
| 57 | ETH_TXD2_3 | TXD[0] | D11 | 56.397 |
| 58 | ETH_TXD3_3 | TXD[0] | G15 | 56.388 |
| 59 | ETH_TXCTL_3 | TXCTL | G7 | 56.388 |
| 60 | ETH_TXCLK_3 | TXCLK | D9 | 56.388 |
| 61 | ETH_MDIO_3 | MDIO | G9 | 56.388 |
| 62 | ETH_MDC_3 | MDC | H7 | 56.388 |
| 63 | ETH_INT_3 | INT | C10 | 56.393 |
| 64 | ETH_RESET_3 | RESET | H8 | 56.388 |