Introduction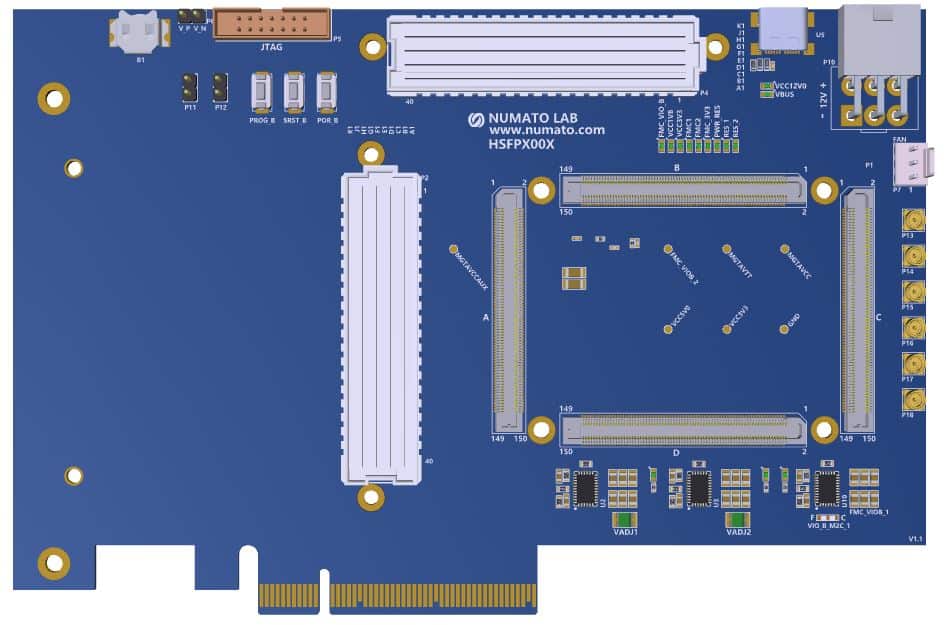 The HSFPX00X is carrier board for connecting module with Edge Rate® Rugged High-Speed Male connector like Numato Lab's HSFPX002 FPGA module. The HSFPX00X carrier board features High Pin Count (HPC) high-speed FMC connector conforming to ANSI/VITA 57.1 Standard for the purpose of adding additional features to the board by using custom or commercial off-the-shelf daughter boards and a x8 PCIe interface.
Board Features
4 Edge Rate® Rugged High-Speed Female connector
8 lane PCIe Gen2.0 (5.0GT/s)
USB 3.1 Gen 1 @ 5Gbps (USB Type-C connector)
2 FMC connector with a maximum of 130 IOs for user-defined purposes
6 SMA connectors for 3 external differential clocks
Can be powered from PCIe slot or from an external power supply
JTAG header for programming and debugging
Dimension: 167.65mm x 111.15mm
Applications
Product Prototype Development
Development and Testing of custom embedded processors
Educational tool for Schools and Universities
Communication Devices Development
How to use HSFPX00X module
The following sections describe in detail how to use this module.
Hardware Accessories Required
Along with the module, you may need the accessories listed below for easy and fast installation:
12 V DC Power Supply.
USB A to USB-C cable.
A Xilinx Platform Cable USB II compatible JTAG programmer.
Boards Supported
Along with the module, you may use any of the module below, or any other compatible FPGA module.
Numato Lab HSFPX002 FPGA Module
PCIe x8 Edge Connector
Signal Name
FPGA GPIO Module
(Connector A)
PCIe_REFCLK_P
A73
PCIe_REFCLK_N
A75
PCIe_TX0_P
A80
PCIe_TX0_N
A82
PCIe_TX1_P
A86
PCIe_TX1_N
A88
PCIe_TX2_P
A92
PCIe_TX2_N
A94
PCIe_TX3_P
A98
PCIe_TX3_N
A100
PCIe_TX4_P
A110
PCIe_TX4_N
A112
PCIe_TX5_P
A116
PCIe_TX5_N
A118
PCIe_TX6_P
A122
PCIe_TX6_N
A124
PCIe_TX7_P
A128
PCIe_TX7_N
A130
PCIe_RX0_P
A79
PCIe_RX0_N
A81
PCIe_RX1_P
A85
PCIe_RX1_N
A87
PCIe_RX2_P
A91
PCIe_RX2_N
A93
PCIe_RX3_P
A97
PCIe_RX3_N
A99
PCIe_RX4_P
A109
PCIe_RX4_N
A111
PCIe_RX5_P
A115
PCIe_RX5_N
A117
PCIe_RX6_P
A121
PCIe_RX6_N
A123
PCIe_RX7_P
A127
PCIe_RX7_N
A129
PCIe_PERST#
D126 (Connector D)
Connection Details
FMC Connector 1
| FMC Pin Name | FMC Pin Location | FMC Pin Name | FMC Pin Location |
| --- | --- | --- | --- |
| FMC1_DP0_M2C_P | C6 | FMC1_DP0_M2C_N | C7 |
| FMC1_DP1_M2C_P | A2 | FMC1_DP1_M2C_N | A3 |
| FMC1_DP2_M2C_P | A6 | FMC1_DP2_M2C_N | A7 |
| FMC1_DP3_M2C_P | A10 | FMC1_DP3_M2C_N | A11 |
| FMC1_DP4_M2C_P | A14 | FMC1_DP4_M2C_N | A15 |
| FMC1_DP5_M2C_P | A18 | FMC1_DP5_M2C_N | A19 |
| FMC1_DP6_M2C_P | B16 | FMC1_DP6_M2C_N | B17 |
| FMC1_DP7_M2C_P | B12 | FMC1_DP7_M2C_N | B13 |
| FMC1_DP0_C2M_P | C2 | FMC1_DP0_C2M_N | C3 |
| FMC1_DP1_C2M_P | A22 | FMC1_DP1_C2M_N | A23 |
| FMC1_DP2_C2M_P | A26 | FMC1_DP2_C2M_N | A27 |
| FMC1_DP3_C2M_P | A30 | FMC1_DP3_C2M_N | A31 |
| FMC1_DP4_C2M_P | A34 | FMC1_DP4_C2M_N | A35 |
| FMC1_DP5_C2M_P | A38 | FMC1_DP5_C2M_N | A39 |
| FMC1_DP6_C2M_P | B36 | FMC1_DP6_C2M_N | B37 |
| FMC1_DP7_C2M_P | B32 | FMC1_DP7_C2M_N | B33 |
| FMC1_GBTCLK0_M2C_P | D4 | FMC1_GBTCLK0_M2C_N | D5 |
| FMC1_GBTCLK1_M2C_P | B20 | FMC1_GBTCLK1_M2C_N | B21 |
| FMC1_LA00_P | G6 | FMC1_LA00_N | G7 |
| FMC1_LA01_P | D8 | FMC1_LA01_N | D9 |
| FMC1_LA02_P | H7 | FMC1_LA02_N | H8 |
| FMC1_LA03_P | G9 | FMC1_LA03_N | G10 |
| FMC1_LA04_P | H10 | FMC1_LA04_N | H11 |
| FMC1_LA05_P | D11 | FMC1_LA05_N | D12 |
| FMC1_LA06_P | C10 | FMC1_LA06_N | C11 |
| FMC1_LA07_P | H13 | FMC1_LA07_N | H14 |
| FMC1_LA08_P | G12 | FMC1_LA08_N | G13 |
| FMC1_LA09_P | D14 | FMC1_LA09_N | D15 |
| FMC1_LA10_P | C14 | FMC1_LA10_N | C15 |
| FMC1_LA11_P | H16 | FMC1_LA11_N | H17 |
| FMC1_LA12_P | G15 | FMC1_LA12_N | G16 |
| FMC1_LA13_P | D17 | FMC1_LA13_N | D18 |
| FMC1_LA14_P | C18 | FMC1_LA14_N | C19 |
| FMC1_LA15_P | H19 | FMC1_LA15_N | H20 |
| FMC1_LA16_P | G18 | FMC1_LA16_N | G19 |
| FMC1_LA17_P | D20 | FMC1_LA17_N | D21 |
| FMC1_LA18_P | C22 | FMC1_LA18_N | C23 |
| FMC1_LA19_P | H22 | FMC1_LA19_N | H23 |
| FMC1_LA20_P | G21 | FMC1_LA20_N | G22 |
| FMC1_LA21_P | H25 | FMC1_LA21_N | H26 |
| FMC1_LA22_P | G24 | FMC1_LA22_N | G25 |
| FMC1_LA23_P | D23 | FMC1_LA23_N | D24 |
| FMC1_LA24_P | H28 | FMC1_LA24_N | H29 |
| FMC1_LA25_P | G27 | FMC1_LA25_N | G28 |
| FMC1_LA26_P | D26 | FMC1_LA26_N | D27 |
| FMC1_LA27_P | C26 | FMC1_LA27_N | C27 |
| FMC1_LA28_P | H31 | FMC1_LA28_N | H32 |
| FMC1_LA29_P | G30 | FMC1_LA29_N | G31 |
| FMC1_LA30_P | H34 | FMC1_LA30_N | H35 |
| FMC1_LA31_P | G33 | FMC1_LA31_N | G34 |
| FMC1_LA32_P | H37 | FMC1_LA32_N | H38 |
| FMC1_LA33_P | G36 | FMC1_LA33_N | G37 |
| FMC1_HA00_P | F4 | FMC1_HA00_N | F5 |
| FMC1_HA01_P | E2 | FMC1_HA01_N | E3 |
| FMC1_HA02_P | K7 | FMC1_HA02_N | K8 |
| FMC1_HA03_P | J6 | FMC1_HA03_N | J7 |
| FMC1_HA04_P | F7 | FMC1_HA04_N | F8 |
| FMC1_HA05_P | E6 | FMC1_HA05_P | E7 |
| FMC1_HA06_P | K10 | FMC1_HA06_N | K11 |
| FMC1_HA07_P | J9 | FMC1_HA07_N | J10 |
| FMC1_HA08_P | F10 | FMC1_HA08_N | F11 |
| FMC1_HA09_P | E9 | FMC1_HA09_N | E10 |
| FMC1_HA10_P | K13 | FMC1_HA10_N | K14 |
| FMC1_HA11_P | J12 | FMC1_HA11_N | J13 |
| FMC1_HA12_P | F13 | FMC1_HA12_N | F14 |
| FMC1_HA13_P | E12 | FMC1_HA13_N | E13 |
| FMC1_HB00_P | K25 | FMC1_HB00_N | K26 |
| FMC1_HB01_P | J24 | FMC1_HB01_N | J25 |
| FMC1_HB02_P | F22 | FMC1_HB02_N | F23 |
| FMC1_HB03_P | E21 | FMC1_HB03_N | E22 |
| FMC1_HB04_P | F25 | FMC1_HB04_N | F26 |
| FMC1_HB05_P | E24 | FMC1_HB05_N | E25 |
| FMC1_HB06_P | K28 | FMC1_HB06_N | K29 |
| FMC1_HB07_P | J27 | FMC1_HB07_N | J28 |
| FMC1_HB08_P | F28 | FMC1_HB08_N | F29 |
| FMC1_HB09_P | E27 | FMC1_HB09_N | E28 |
| FMC1_HB10_P | K31 | FMC1_HB10_N | K32 |
| FMC1_HB11_P | J30 | FMC1_HB11_N | J31 |
| FMC1_HB12_P | F31 | FMC1_HB12_N | F32 |
| FMC1_HB13_P | E30 | FMC1_HB13_N | E31 |
| FMC1_HB14_P | K34 | FMC1_HB14_N | K35 |
| FMC1_HB15_P | J33 | FMC1_HB15_N | J34 |
| FMC1_HB16_P | F34 | FMC1_HB16_N | F35 |
| FMC1_HB17_P | K37 | FMC1_HB17_N | K38 |
| FMC1_HB18_P | J36 | FMC1_HB18_N | J37 |
| FMC1_HB19_P | E33 | FMC1_HB19_N | E34 |
| FMC1_HB20_P | F37 | FMC1_HB20_N | F38 |
| SCL_FMC | C30 | SDA_FMC | C31 |
| P_G_C2M | D1 | P_G_C2M_1 | F1 |
| TCK_FMC | D29 | TMS_FMC | D33 |
| TDO_FPGA_TD1_FMC1 | D30 | TDO_FPGA_TD1_FMC2 | D31 |
| TEST_SIG0_P | J15 | TEST_SIG0_N | J16 |
| TEST_SIG1_P | F16 | TEST_SIG1_N | F17 |
| TEST_SIG2_P | E15 | TEST_SIG2_N | E16 |
| TEST_SIG3_P | K16 | TEST_SIG3_N | K17 |
| TEST_SIG4_P | J18 | TEST_SIG4_N | J19 |
| TEST_SIG5_P | F19 | TEST_SIG5_N | F20 |
| TEST_SIG6_P | E18 | TEST_SIG6_N | E19 |
| TEST_SIG7_P | K19 | TEST_SIG7_N | K20 |
| TEST_SIG8_P | J21 | TEST_SIG8_N | J22 |
| TEST_SIG_9 | K22 | TEST_SIG_10 | K23 |
| PRSNT1_M2C_L | H2 | | |
FMC Connector 2
| FMC Pin Name | FMC Pin Location | FMC Pin Name | FMC Pin Location |
| --- | --- | --- | --- |
| FMC2_GBTCLK0_M2C_P | D4 | FMC1_GBTCLK0_M2C_N | D5 |
| FMC2_GBTCLK1_M2C_P | B20 | FMC1_GBTCLK1_M2C_N | B21 |
| FMC2_LA00_P | G6 | FMC1_LA00_N | G7 |
| FMC2_LA01_P | D8 | FMC1_LA01_N | D9 |
| FMC2_LA02_P | H7 | FMC1_LA02_N | H8 |
| FMC2_LA03_P | G9 | FMC1_LA03_N | G10 |
| FMC2_LA04_P | H10 | FMC1_LA04_N | H11 |
| FMC2_LA05_P | D11 | FMC1_LA05_N | D12 |
| FMC2_LA06_P | C10 | FMC1_LA06_N | C11 |
| FMC2_LA07_P | H13 | FMC1_LA07_N | H14 |
| FMC2_LA08_P | G12 | FMC1_LA08_N | G13 |
| FMC2_LA09_P | D14 | FMC1_LA09_N | D15 |
| FMC2_LA10_P | C14 | FMC1_LA10_N | C15 |
| FMC2_LA11_P | H16 | FMC1_LA11_N | H17 |
| FMC2_LA12_P | G15 | FMC1_LA12_N | G16 |
| FMC2_LA13_P | D17 | FMC1_LA13_N | D18 |
| FMC2_LA14_P | C18 | FMC1_LA14_N | C19 |
| FMC2_LA15_P | H19 | FMC1_LA15_N | H20 |
| FMC2_LA16_P | G18 | FMC1_LA16_N | G19 |
| FMC2_LA17_P | D20 | FMC1_LA17_N | D21 |
| FMC2_LA18_P | C22 | FMC1_LA18_N | C23 |
| FMC2_LA19_P | H22 | FMC1_LA19_N | H23 |
| FMC2_LA20_P | G21 | FMC1_LA20_N | G22 |
| FMC2_LA21_P | H25 | FMC1_LA21_N | H26 |
| FMC2_LA22_P | G24 | FMC1_LA22_N | G25 |
| FMC2_LA23_P | D23 | FMC1_LA23_N | D24 |
| FMC2_LA24_P | H28 | FMC1_LA24_N | H29 |
| FMC2_LA25_P | G27 | FMC1_LA25_N | G28 |
| FMC2_LA26_P | D26 | FMC1_LA26_N | D27 |
| FMC2_LA27_P | C26 | FMC1_LA27_N | C27 |
| FMC2_LA28_P | H31 | FMC1_LA28_N | H32 |
| FMC2_LA29_P | G30 | FMC1_LA29_N | G31 |
| FMC2_LA30_P | H34 | FMC1_LA30_N | H35 |
| FMC2_LA31_P | G33 | FMC1_LA31_N | G34 |
| FMC2_LA32_P | H37 | FMC1_LA32_N | H38 |
| FMC2_LA33_P | G36 | FMC1_LA33_N | G37 |
| FMC2_HA00_P | F4 | FMC1_HA00_N | F5 |
| FMC2_HA01_P | E2 | FMC1_HA01_N | E3 |
| FMC2_HA02_P | K7 | FMC1_HA02_N | K8 |
| FMC2_HA03_P | J6 | FMC1_HA03_N | J7 |
| FMC2_HA04_P | F7 | FMC1_HA04_N | F8 |
| FMC2_HA05_P | E6 | FMC1_HA05_P | E7 |
| FMC2_HA06_P | K10 | FMC1_HA06_N | K11 |
| FMC2_HA07_P | J9 | FMC1_HA07_N | J10 |
| FMC2_HA08_P | F10 | FMC1_HA08_N | F11 |
| FMC2_HA09_P | E9 | FMC1_HA09_N | E10 |
| FMC2_HA10_P | K13 | FMC1_HA10_N | K14 |
| FMC2_HA11_P | J12 | FMC1_HA11_N | J13 |
| FMC2_HA12_P | F13 | FMC1_HA12_N | F14 |
| FMC2_HA13_P | E12 | FMC1_HA13_N | E13 |
| FMC2_HB00_P | K25 | FMC1_HB00_N | K26 |
| FMC2_HB01_P | J24 | FMC1_HB01_N | J25 |
| FMC2_HB02_P | F22 | FMC1_HB02_N | F23 |
| FMC2_HB03_P | E21 | FMC1_HB03_N | E22 |
| FMC2_HB04_P | F25 | FMC1_HB04_N | F26 |
| FMC2_HB05_P | E24 | FMC1_HB05_N | E25 |
| FMC2_HB06_P | K28 | FMC1_HB06_N | K29 |
| FMC2_HB07_P | J27 | FMC1_HB07_N | J28 |
| FMC2_HB08_P | F28 | FMC1_HB08_N | F29 |
| FMC2_HB09_P | E27 | FMC1_HB09_N | E28 |
| FMC2_HB10_P | K31 | FMC1_HB10_N | K32 |
| FMC2_HB11_P | J30 | FMC1_HB11_N | J31 |
| FMC2_HB12_P | F31 | FMC1_HB12_N | F32 |
| FMC2_HB13_P | E30 | FMC1_HB13_N | E31 |
| FMC2_HB14_P | K34 | FMC1_HB14_N | K35 |
| FMC2_HB15_P | J33 | FMC1_HB15_N | J34 |
| FMC2_HB16_P | F34 | FMC1_HB16_N | F35 |
| FMC2_HB17_P | K37 | FMC1_HB17_N | K38 |
| FMC2_HB18_P | J36 | FMC1_HB18_N | J37 |
| FMC2_HB19_P | E33 | FMC1_HB19_N | E34 |
| SCL_FMC | C30 | SDA_FMC | C31 |
| P_G_C2M | D1 | P_G_C2M_2 | F1 |
| TCK_FMC | D29 | TMS_FMC | D33 |
| TDO_FMC1_TDI_FMC2 | D30 | TDO_FMC2 | D31 |
| TEST_SIG_11 | J15 | PRSNT2_M2C_L | H2 |